Admission- NEWWS- new students August 26th - all day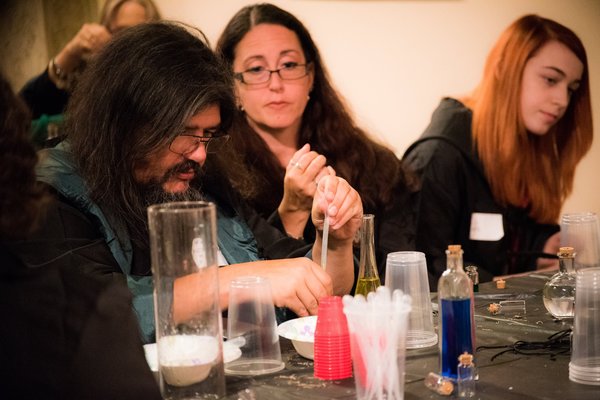 Admission- NEWWS- new students August 26th - all day
Please read all of this information!
You must send us a list of the full names of all of the students you are buying tickets for in an email -via our contact us form or to oneail@hotmail.com- after checkout and all acceptance letters will be sent to the singular shipping address you provide.

The event is open to wizards of all ages! You cant be too old and the majority of our students are often adults. The suggested age for the event is 7+ and all students 15 and younger must be accompanied by a participating adult 18+.
-This gives you, a brand new student, admission to all of the classes- 11am until 6pm- for a full Immersive student day at the New England Witchcraft and Wizarding School being held at the Higgins Building in Worcester Ma. on August 26st 2017! Thats right, you get all 8 hands on classes for a full day of fun! You may even have been a student before and might just like a refresher course :)
If you like the movies where a "normal" boy finds out he is a wizard, then you are going to love NEWWS! New England Witchcraft and Wizarding School are fully immersive experiences that makes YOU that boy and puts you firmly into the world of our Wizard School!

Our Student Session experience starts after you have booked your session. -Don't forget to prepay for your robes and wands! All students are required to have black robes and a wand! - feel free to bring your own or purchase them at the event at Finnegan's Faire!

​In a few weeks, you will receive an acceptance letter in the mail, letting you know you have been accepted to NEWWS and gives you the whens, wheres and whatnots that you will need to bring with you on your first day. In your acceptance packet you will also be given a website to take a personality test. Very important to the sorting process!
Arrive at your designated time- 9am - 11am for new students, get sorted by the Sorting Cap into one of 4 houses (they are fraternal houses to the ones in England)

-Leo

-Serpentus

-Corvus

-Brock

(it should be noted that the sorting cap always takes into consideration the house you would like to belong to and almost always keeps families together. It also NEVER separates an adult student from a younger student)

Then its off to Finnegan's Faire to purchase (or pick up your prepurchased)- house robe, be chosen by your wand, perhaps grab a butterbeer, select an owl and purchase a few more amazing things there.

Now that you are properly kitted out, you are off to class! Each of the student sessions will have four classes. Classes in session 1 will be different from session 2. The classes may be- Potions, Herbology, Defense against Dark Magic, Divination, Basic Spellcraft, Transfiguration and more! Each class will be a combination lecture/hands on experience. Better have a quill and parchment ready to take notes! Find out a little about our teachers on our CLASSES page.

Take the time to find new friends, join a club, meet fellow wizards and chat with the teachers. your all day experience ends at 6pm
After your student experience, keep up with us on Facebook!

Some teachers have started student clubs! Do planning, immerse yourself in the club activity and talk with fellow students on FB. Then meet up on your next student day for special activities!
For more information and to see pictures of past events, please visit our web page at www.newizardschool.com