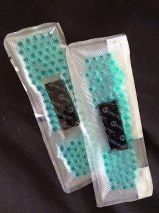 CoolPack MAX
You get 2 CoolPacks Maxes - double the cooling power!
Great for keeping yourself cool under our awesome masks when used with our CoolCap.
The CoolPack Maxes are filled with double the hydro pellets than normal CoolPacks! They are still thin, replaceable and totally reuseable. They can be used with any hat, helmet or cap! Great for working out, labor intensive jobs, cooks, doctors, athletes and anyone who needs some cooling relief!
To use- freeze CoolPacks squeeze frozen CoolPack to make pliable Attach to velcro inside your CoolCap Put on and enjoy! A frozen cool pack, on its own will remain nice and cool for upto 8 hours. Worn under a mask with intense activity, they will provide cooling relief for 40-60 minutes. Luckily they are quick and easy to switch out! Additional CoolPack refills and CoolPack Maxes are available.Watch this video to see how they work with our cheesiest video yet!- https://youtu.be/6-eOS4cFPqI