Krampus Deluxe Talking Doll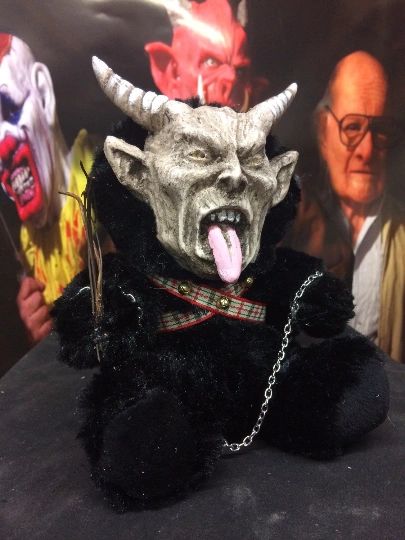 Krampus Deluxe Talking Doll
The Deluxe version has all of the awesome of the regular version plus- 

-A real wooden basket for naughty children!
-real Vine switch to beat them
-The actual metal chains where they have tried to contain him but you just cant keep a good krampus down!
-real fabric ribbon straps
-real miniature brass bells
- talks!
Get your own 7" - all Black Krampus the Christmas Devil! Dark counterpart to St. Nicholas who beat bad children and dragged them to hell. Now you can have a cuddly plush version of this charming fellow to snuggle with! 

Press is body and hear him declare - "I am Krampus! All the naughty souls belong to me!"
Soft Fuzzy body with cast resin head that is hand painted. 
Made by hand by Oneail FX Studios in the US!
See a version of this guy in action here!

http://youtu.be/wvwFG18v4Fc
Since all are created by hand there will be some slight variation from figure to figure.