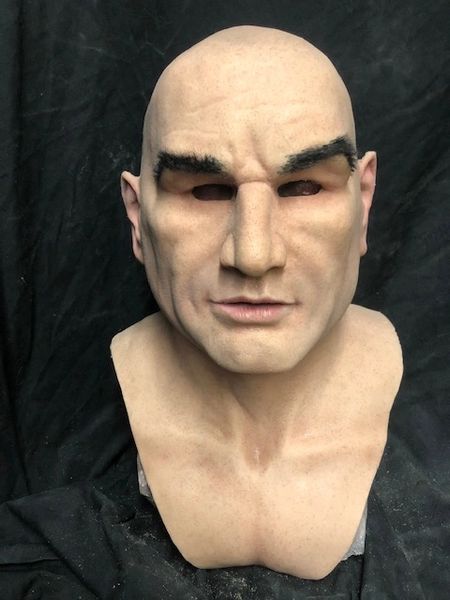 In Stock Clone
This mask is made and ready to ship! No changes can be made to the mask. If you would like something different than pictured, we offer Made to Order Masks also.
This mask was created by me ( a spfx artist of 10+ years ) and now one can be made for you! The silicone is super comfortable to wear and transfers your body heat. Wear it for a little bit and it feels just like flesh! Since the silicone is so soft, it moves with the face to create really lifelike masks!
This mask comes as shown
You can watch a video of the mask and how awesome it is by going to youtube and search for oneail fx - https://youtube.com/shorts/OXncHTjKmWU
The mask is reinforced with a ripstop material called Power Mesh at the eyes, nose, ears and mouth. This helps strengthen areas that could rip more easily. As long as you follow the instructions that come with it and treat is well, it will have a long long life!
You wont find a better new mask for the price!
The mask does not come with a headform 
Turn around time-
This piece is ready to ship so please give us 2-4 business days (mon- friday excluding holidays) to get your order into the mail once payment comes through. After that it will be whatever the mailing time is to you. We ship flat rate priority so its not usually more than 4 days inside the USA or 2 weeks the rest of the world. 
We can ship priority or overnight if needed for a higher cost. The sooner you need it, the higher the cost. 

Remember, this mask is made to a generic size head, about 22" in diameter. It will fit most but not all. Silicone stretches 9 times its original size and can easily be padded to fit a smaller head.

No returns will be accepted. 

If there is any problem with your mask, we will work with you to solve your problem. We do not guarantee the fit of the mask (we can tell how to get the best fit possible) and all masks leave the studio in excellent condition and in the parameters listed in this auction. If you have any problems with the mask please contact us first so we can resolve the issue in an easy and timely manner. We will do everything we can to ensure that you are completely happy with your mask!