Outer Rim Sabacc League Advent Calendar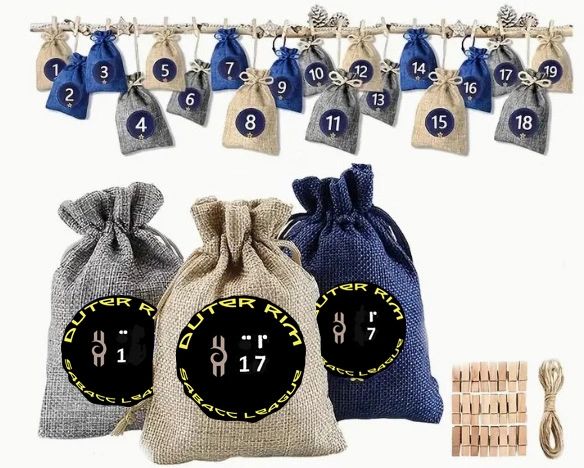 Outer Rim Sabacc League Advent Calendar
The season to celebrate can be exciting and the count down can be just as much fun as the day! Plus, who doesn't like getting stuff?! The Outer Rim Sabacc League does! Thats why we came up with this advent calendar!
Plus you have 2 options! a 17 day advent to count down from Nov1st to Life Day- Nov 17th (because we are big Star Wars nerds) or a 24 day advent to go from Dec 1st to Dec 24th! Each calendar has the same amount of stuff in it overall, just different amount of bags!

In either kit you get a fabric pouch per day, string and clips. Inside the pouch is Star Wars Goodies! During the whole time you will at least get 2 full buy ins of resin credits- aged, worn and well used looking, of a random faction or two of our choosing. Plus you will find a slew of other goodies you can use in your games. It could be- but not guaranteed- more credits, calamari flan, dealer tokens, beskar, star wars stickers, medallions, ornaments and the list goes on and on. No 2 advent calendar will be exactly alike. That's what makes it so much fun!
New to sabacc? We have you covered there too! You can add a deck option and in your calendar, you will get an official ORSL deck, spike dice and rules!
Supplies are limited and time is flying by so order now!