Resin Outer Rim Sabacc League Credits- set of 32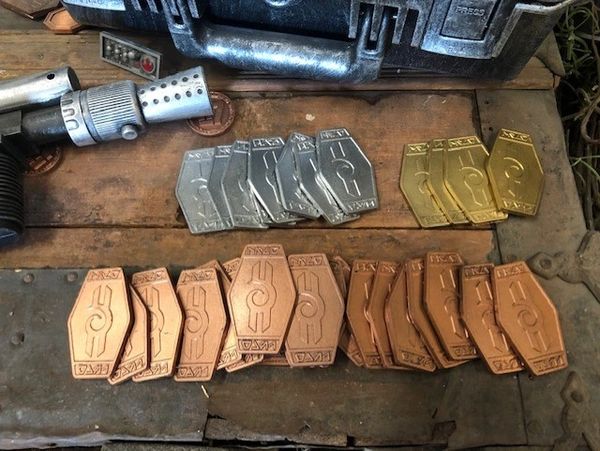 Resin Outer Rim Sabacc League Credits- set of 32
Outer Rim Sabacc League Resin Credits- 32 pieces total
Ready to play Sabacc but need something to bet with? These resin credits will be a great start. Its upto you to win more! If you are looking for shiny new credits- go to the exchange booth at Canto Bight. If you are looking for worn and used credits that have probably passed through the hands of the galaxies most notorious scoundrels (and probably Hondo's twice), these are the credits for you!

We've started a Sabacc League but quickly realized that getting enough credits to play can be daunting. These were our solution! 
In our games we have color coded our resin credits so you can use any design (see our other offerings) and they have similar value. 
You get-
20 copper/bronze credits -(value 5 credits each)
8 silver credits- (Value 25 credits each)
4 gold credits - (value 100 credits each)
32 credits total (value 700 credit buy in)
In our games, that's the standard buy in for 1 person.
These credits are cast hard urethane resin pieces from silicone molds made from the actual metal version of the credits and are  spray painted for external color. The inner color of the actual resin will vary as will the thickness of each credit. These credits also have casting defects, voids, chips, scratches and tarnish.
Find your planet and find other rogues to play with by checking out the Outer Rim Sabacc League- Galaxy Page at-
Www.facebook.com/groups/galacticsabaccleague
Dont forget to check out our other resin credit collections- Imperial, Republic, Batuu Spira and our popular Gambler's Mix! We also have silicone Mon Cal Flan, Themed game sets in cases, holoprojectors, lightup panels and even entire cantina set ups! Browse our site for it all!
Not official Star Wars items.
These are fan made and we have no connection with Star Wars, Lucasfilm, Disney or any other official owners of all things Star Wars.