Portable ORSL Cantina for upto 8 gamblers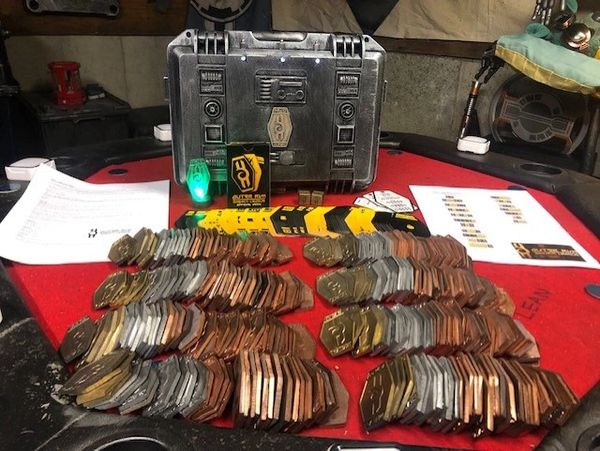 Portable ORSL Cantina for upto 8 gamblers
Sabacc! The poker like game that won Han Solo the Millennium Falcon!
Now the Outer Rim Sabacc League is presenting you with everything you need to play a Corellian Spike Sabacc at a full table of 8 players!

The durable case measures 13"x10"x5" and comes painted and weathered to look like it came right out of Jabbas Palace. Since Spike is played in 3 rounds, the case has 3 lights that can be used to keep track of which round it is and it has a small but powerful bluetooth speaker in the base so you can play your favorite galactic tunes while playing! The case come with 2 layers of pluck foam that will be left fully intact so that you can arrange your contents however you'd like

You have many options for your purchase!
1-You can purchase just the case. The outside is as above and the two trays of pluck foam are left fully intact for you to arrange as you wish
2- Add the game! You get the Official Outer Rim Sabacc Corellian Spike Deck of 62 cards, specially designed for low light situations like a seedy cantina. You get 2 resin ORSL spike dice. You get one light up dealer token so you can tell who the dealer is. You also get the ORSL spike rules along with the official hand rankings.

Inside, you can get-
3- Full Cantina- everything above
plus you get 8 sets of resign ORSL credits.

These credits have been around the block and changed hands many times. As you can see, they vary in thickness and none are pristine. Voids and chips let you know that these credits have circulated! 32 credits is our normal buy-in for one gambler at a game. That's 4 gold credits, 8 silver credits and 20 copper credits per set and you get 8 sets. That's 256 credits!

Need something different? Check out our-
Traveller set- basic sabacc set for the gambler on the go.
Sabacc for the Solo Gambler small set- 
and
Sabacc Medium set with 2 sets of buy in credits! 
And dont forget- we also sell sets of Republic Credits, Imperial Credits, Calamari Flan, Batuu Spira and our popular Gambler's Mix
Til the Spire!
-while we try to have one in stock, many of these orders will be made when you order. Our ability to get the card set etc may lengthen the production time.