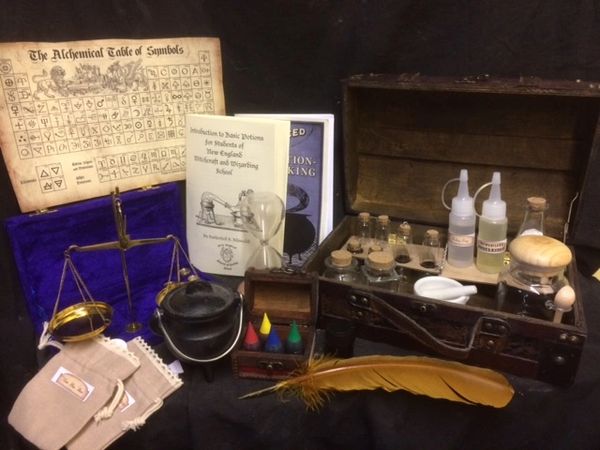 Supreme Potions Kit
Some students realize that in order to excel at a subject you must get the absolute best equipment and materials for your studies. Our Supreme Potions Kit not only gives you all of the equipment your alchemical laboratory needs, but gives you all of the materials you need to complete the three basic potions in the included book - Introduction to Basic Potions for Students of New England Witchcraft and Wizarding School. Then you can dive even deeper with the added book- Advanced Potion Making. These are outside of the range of most Wizards, but notes written by exceptional students are written in the margins to help you along. Ill ingredients are labeled and are ready to be prepared for use!

Included in you kit is-

Wooden box with leather like covering and handle
#3 Cast Iron Cauldron
Brass Scales
Glass magic potion timer
Small fancy box filled with 4 types of essence (food coloring)
one squeeze vial of Pudica Sap (baby oil)
One squeeze vial of Quicksilver Conger Mucous (vegetable oil)
A cloth bag containing one sliver of Kirin Horn (alka-seltzer)
A cloth bag containing a tube of Binding Solution (super glue)
A vial of Thriae Eggs (instant snow)
Large jar with wooden stopper and spoon
ceramic pestle and mortar
2 large mixing vials
4 small mixing vials
1 square glass jar
1 round glass jar
one vial of writing ink
one brass tipped feather quill for notes
a copy of the Alchemical Table of Symbols
A copy of the 20 page booklet- Introduction to Basic Potions- with instructions for using the materials
A copy of the 48 page booklet - Advanced Potion Making- to read for fun
Its suggested that little wizards explore this kit with an adult wizard as all of the vials are glass and some of the materials can cause adverse effects if ingested (nothing too serious though) All of the potions and recipes are safe and fun to do together!
Students of NEWWS will also receive a few bonus gifts and will be able to use their kit in class.
-colors of case, small box and shape of bottles may vary from what is pictured.