Admission - Yule Ball Tickets after the Wizards Market on December 8th - General Admission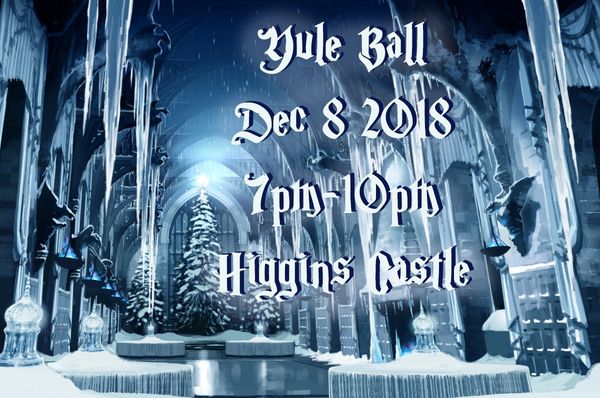 Admission - Yule Ball Tickets after the Wizards Market on December 8th - General Admission
Wizards and Witches of all ages are welcome!  7pm-10pm Dec 8th after the Yule Market. Separate admission required for Yule Market and Yule Ball.
Fans 15years old and younger will need to have a chaperon 18+ also attend the ball.
Children 4 and younger do not need a ticket

No physical or electronic tickets will be sent. Simply check in at the lobby.

Wizards from all over the globe come to New England Witchcraft and Wizarding School's Yule market and after a long day of classes, gathering items and getting presents, they want to unwind with an elegant Ball!
All will be ushered out of the great hall at 5pm so that we can start the transformation. 
Don your finest robes and at 7pm the doors will be thrown open once again and all are welcome to enjoy our YULE BALL!! Wizards 21+ (with proper muggle ID) will be able to enjoy an adult Butterbeer and dont worry, we will have some non alcoholic for the youths also! Muggle beer and wine will also be available. The bar will take muggle cash and cc.
Our Dance instructors will be on hand to teach you the proper ball dances and our DJ will play a fine mix of muggle and wizard rock so that you may dance the night away!
Throughout the evening, we will have fun activities that you may partake in to win points for your house!
We will also hold a costume contest with prizes for-
Best Harry Potter Character
Best Unique Wizard Character
Tickets are non refundable but may be transfered. Please contact us to do so.