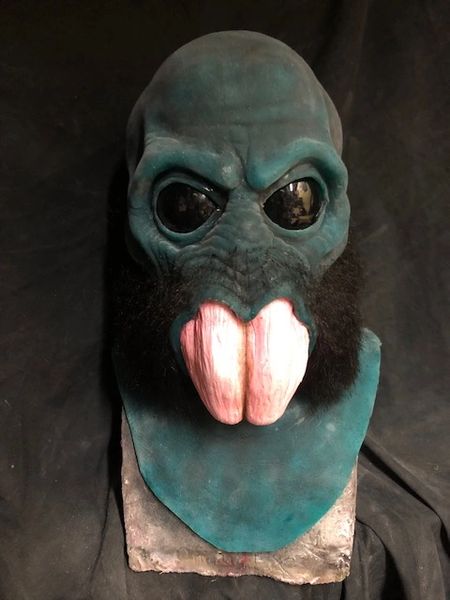 Aqualish
"He said he doesnt like you!" Be the grumpy aqualish you were meant to be!

The piece is reinforced with Power Mesh at the eyes, nose, ears and mouth, so that as long as you are careful with it, it will have a long long life! The eye lenses are vacuuformed acrylic and the "tusks" are hollow cast resin so talking and breathing are easy to do!

The silicone is super comfortable to wear and transfers heat. Wear it for a little bit and it feels just like flesh! Since the silicone is so soft, it moves with the face to create really lifelike masks!

You have 2 standard skin tone options- dark green or mottled Caucasian
You also have hair options. The hair is glued on lace backed pieces, with loose hair glued patches and a punched hairline.
If you get mottled causasian skin and the blonde hair, you'll have an aqualish like the Boss in Book of Boba Fett- Garfalaquox!
If you get the dark green skin and the black hair, you'll have an aqualish like Ponda Baba from A New Hope and Rogue One!
We can do other skin colors and hair colors! Contact us to let us know what you are looking for!

Check out this video of Ponda Baba variation so you can see how it moves! https://youtube.com/shorts/AfBhRkkGXvE
This piece will be made to order so please give us 10-30 business days (monday- friday excluding federal holidays) to get your order into the mail once payment comes through. Orders received after 4pm EST, will be processed the next business day.
After that it will be whatever the mailing time is to you. We can do a very quick turn around when payment is made, then ship priority or overnight if needed for a higher cost. The sooner you need it, the higher the cost. Minimum two day turn around plus shipping time.
Remember, this mask is made to a generic size head approx 21" in diameter. It will fit most but not all. The silicone will stretch 9 times its original size and can easily be padded for smaller heads.
No returns will be accepted. 
I would like to restate, that it takes us about two - six weeks to produce the mask once you pay for it. After it goes into the mail, the time it takes to get to you is not within out power to change. Yes, we can rush ship things for extra costs but we cannot guarantee delivery since the mail services do not guarantee it. Especially when shipping to other countries than the USA, customs can hold up the mask longer than expected. We do not guarantee delivery times, only ship by date.
If there is any problem with your mask, we will work with you to solve your problem. We do not guarantee the fit of the mask and all masks leave the studio in excellent condition and in the parameters listed in this auction. If you have any problems with the mask please contact us first so we can resolve the issue in an easy and timely manner. We will do everything we can to ensure that you are completely happy with your mask! Because we sometime experience high volume, we have a single mold for each mask and we are a small operation, some orders may take the full 30 business days though we always try to hit or beat our 10 business day target ship by date.
This mask is not an official product and Oneail FX Studios has no connection to Disney or Lucas Film. This is simply a fan made product