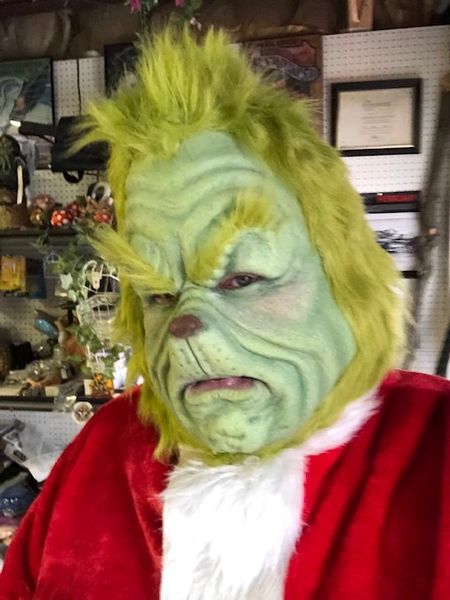 The Grumbles Face Mask
He'll steal your Christmas if you aren't careful!

This is a silicone face mask sculpted and painted by artist Jeremy Oneail. It is made to order and will take about 10-20 business days to get into the mail. We ship USPS priority. 
The Grumbles is part of our new line of Face Masks. That means the face is covered by a super detailed silicone mask that can move with you but the rest of the mask is a super comfortable lycra hood. This makes the mask super light and comfortable to wear. You dont have to worry about heat retention with these! Its also very easy to adjust the fit with our velcro fit straps. It holds the jaw snug against your face and really enhances the movement. Its really the best of all worlds! Like all Oneail FX masks, this one is reinforced by Power Mesh ripstop material at all of the facial openings to really give your mask great durability! 

The mask comes bald (no hair on the mask at all)and mounted on a lycra hood with 2 velcro fit straps. You can also choose the  full hair option! The fur includes a fake fur hood that velcros closed in the back glued onto the mask and punched fur eyebrows. You also get 2 fur color options. Movie color olive drab as shown or a lime green fur that is found on a popularly sold "Grinch" costume

Great for fan films, cosplay, charity events, pranks, haunted houses, theater productions and anyone who likes to have fun. Its amazingly realistic and Once you have one, you'll wonder why you didn't get it sooner! You can see the fur version of the mask being worn in this video -https://youtube.com/shorts/b-fEzIgTJOc
The mask is made to one size fits most. It can fit upto a 25" head

Please remember that each mask is a work of art and no two are exactly the same. Please also remember that each mask is made to order and it takes us 10-30 business days for us to make it and get it into the mail. During our busy season, August - Dec, your mask may take it maximum time or even later to get to you. We will supply you with a tracking number when we have shipped it.