Belsnickle Knee Hugger Elf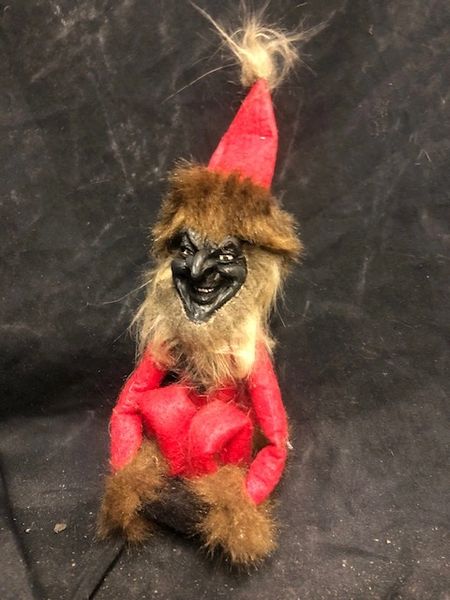 Belsnickle Knee Hugger Elf
Based on the classic knee hugging elves from the 50's and the show The Office we are bringing you our Belsnickle!
Who is Belsnickle and how can anything that looks like that be part of Christmas? Belsnickel is a character that originated in German folklore and was popularized by Pennsylvania Dutch settlers. Belsnickel is a blend of Krampus and Saint Nikolas. Saint Nikolas is the original and German Santa Claus. He is the good-willed, jolly character seen traveling around the world to reward little children who have been nice. Krampus, however, is the antithesis of Saint Nikolas. Krampus is the half-goat character who goes about the world terrifying and tormenting bad children. Belsnickel marries the torturing and rewarding practice into one judgmental character.
Our version loves to get into trouble when no one is looking and his favorite thing to do it to torture tattle tails. ;)
Our Belsnickle has a hand painted hard resin head made by artist here in our shop, felt body and faux fur. He stands about 13" tall. Asssembled here in the USA!
NO returns will be accepted for this product unless the product is broken. We're sorry if it's too scary for your kids or your wife wont let you keep it in the house. We just see that as opportunity for scares ;)