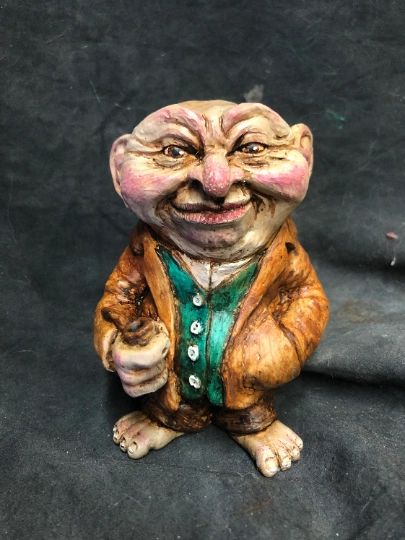 Gentleman Brownie
It is said that author JRRTolkien interacted with a communities of brownies that lived near his cottage and he even drew inspiration for his Hobbit folk from them!
More distinguished that common garden gnomes, this little gentleman is the perfect garden companion.
This is another in our Enchanted Garden line, that will transform your yard into a magical wonderland full of fairies, goblins, imps and gnomes :)

This joyful little critter is 5.5" tall and made of solid resin so he's weather proof (though EXTREME 200+ heat can melt him) Its cast from molds made from our sculpture and each one is hand painted (so yours may vary slightly from the one pictured) He has a hole on the bottom, so that you can attach the included stake to make sure he's always standing up tall in your garden.

While we try to have them in stock, depending on demand, production of your brownie may take upto 15 business days, but we always ship them as soon as possible.

Have a magical day!