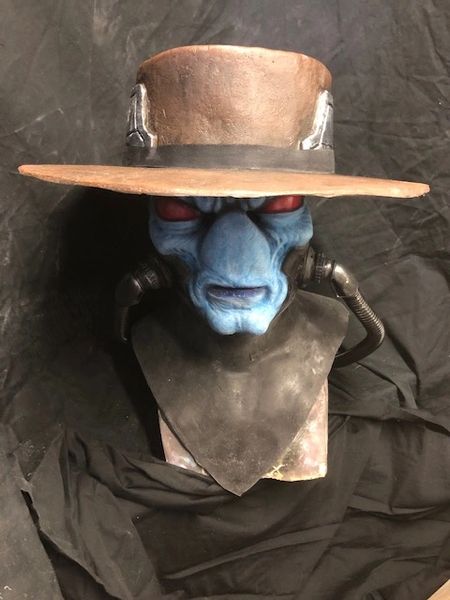 Cad Bane
Ruthless, cruel and uncaring- Cad Bane might have been the most effective bounty hunter the galaxy had seen.
This is a silicone mask sculpted and painted by artist Jeremy Oneail.
Remember production time for masks is 10-30 business days but we will always get it to you as soon as possible!
Like all Oneail FX masks, this one is reinforced by Power Mesh ripstop material at all of the facial openings to really give your mask great durability! In this mask you do not see through the eye but from holes in the corners of the eyes. This may restrict vision for some wearers. You also cannot breathe through your nose in this mask and ear holes are optional. If you choose ear holes, small round holes will be punched in the side of the mask approximately where your ears will be.
Watch a movement video - https://youtu.be/c4Vnn0JFIds
The mask comes plain without any additional equipment.
Resin rebreather attachments and flexible hoses can be added. 
A fit yourself denture kit can be added and come with everything you need to fit them to your mouth.
You can also add a resin hat! The hat is cast out of a semi flexible resin and painted by hand. It measures 20.5" long, 17" wide and has an internal circumfrence of 29" to make sure your head and the mask fit inside. Comes with a foam ring inside to help hold the hat on.
Soon we will also have the rebreather unit available, along with gloves and/or finger extensions.
Great for cosplay, halloween, UFO festivals, pranks, haunted houses,and anyone who likes to have fun. Its amazingly realistic and once you have one, you'll wonder why you didn't get it sooner! 
The mask is made to one size fits most. The core is 22" in diameter and will easily stretch to fit larger. Smaller heads can pad out the back to make it fit better. Sorry, but fit is not guaranteed. 
We will supply you with a tracking number when we have shipped it.