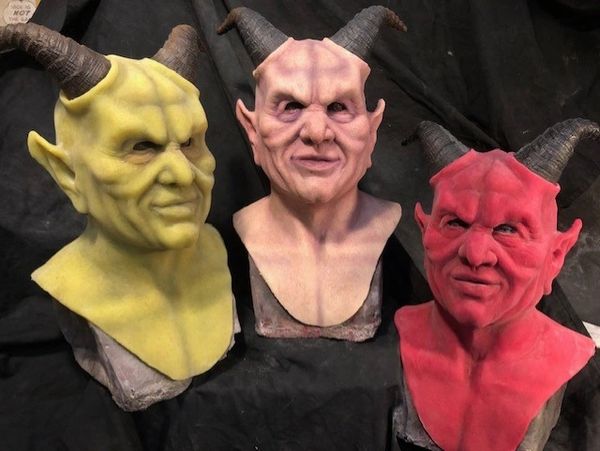 Devaronian/devil
I only came here to get a drink! Why is that old man chopping everyone's arm off with a glowstick?!!!
This is a silicone mask sculpted and painted by artist Jeremy Oneail. It is made to order and will take about 10-30 business days to get into the mail. We always try to ship as soon as possible! We ship USPS priority mail. 

Like all Oneail FX masks, this one is reinforced by Power Mesh ripstop material at all of the facial openings to really give your mask great durability! 

The mask comes bald and with glued on rigid foam horns.
You have the basic choice of 3 skin tones-
-Cantina; harkens back to the first devaronian we saw in the cantina on Mos Eisley. Comes with brown tipped black horns

-Red;  is similar to the devaronian muscle we saw in season 1 episode 6 of the Mandalorian. Comes with all black horns 

-Green; to match the devaronian arms dealer from the animated series Rebels (add a beard in mask extras and we can totally do the broken horn and mutton chops of Vizago) Comes with 2 complete brown horns. 

OR you can contact us and we can make this mask any color you want!

Great for  conventions, fan films, cosplay, haunted houses, improv comedy groups and anyone who likes to have fun. Its amazingly realistic and Once you have one, you'll wonder why you didn't get it sooner! You can see the mask being worn in 2 videos

Basic movement - https://youtu.be/0ThGbwx_6Fs

or a more theatrical video - https://youtu.be/r3ftHvFGtu0

The mask is made to one size fits most. The core is 22" in diameter and will easily stretch to fit larger. Smaller heads can pad out the back to make it fit better. Sorry, but fit is not guaranteed. 

Please remember that each mask is a work of art and no two are exactly the same. Please also remember that each mask is made to order and it takes us 10-30 business days or more for us to make it and get it into the mail. We will supply you with a tracking number when we have shipped it.