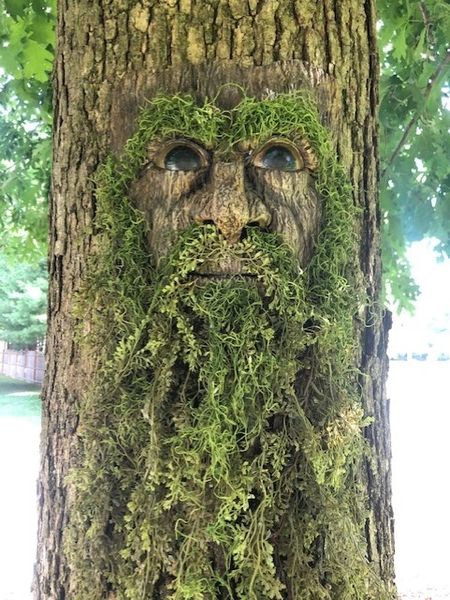 Tree Man Ent Face
You know the trees around you are alive. They just need a little more magic to convince everyone else! 
This ent face is just what you need! Made out of a semi flexible but durable resin, it attaches easily to any tree with just a few screws (included) The semi flexibility of the material allows it to fit many sizes of tree!
You have finish options-
-The Plain Tree Face is hand painted, with golden/green eyes and your choice of one of two finishes.- grey or brown
The finish of the tree face easily takes acrylic paints so you can customize the color of your Tree Face (on your own) to match your tree :)
-The full Deluxe option of getting faux foliage/spanish moss  glued to the face to give it an eldery entish look. The faux foliage helps the durability of your tree face and is less effected by weather and critters.
-The Lichen Hair option, if you are on a budget but still love the "moss" hair. We'll glue -green spanish moss for eyebrows, mustache and hair instead of the plastic lichen. Spanish moss isnt as durable and may dry out and fall off but your face should still have a good long life!
The face, as you can see in the pictures is 17" long and 11" wide with a 3" deep curve. 

Make the trees in your life magic today!

We try and have these in stock but sometimes we have to have one made for your order. Either way, we will hit or beat the Etsy supplied estimated shipping time and will always ship as soon as possible!