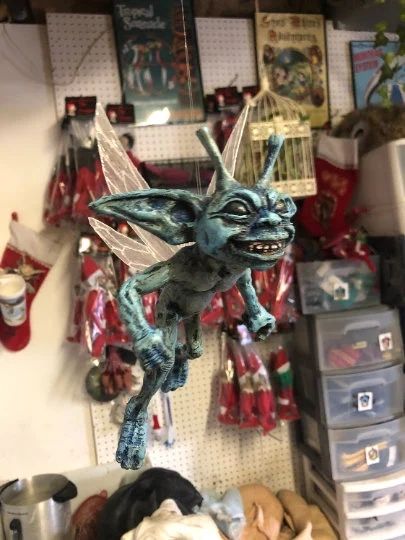 Flying Pixie
Flying Winged Cornish pixies-
Fairly harmless individually but can cause quite a bit of mayhem when the full nest is disturbed. 
Wizards have studied these for ages for their ability to inherently cast simple curses through touch.
While described as wingless in books (see our other listing for wingless pixies) popular movies show them having translucent wings. Our shimmery translucent wings are delicate, so treat them with care.
(See our standing winged pixie listing too!)
Since many of these have been damaged in shipping, pixies will now be shipped with detached wings. Instructions and everything you need to attach the wings are is included
Our samples that are up for adoption - he's 8" long from toes to nose and 8" tall from belly to wingtip.
(each 8" cast resin statue is hand assembled and hand painted and may vary in arm and leg pose and slightly in color from the one pictured.)
Each pixie has a small eyehook on their back so that you may hang them as you wish! 3' of fishing line is included so you can hang them to look like they are flying!
These are cast and painted when you order them and production may take 10-20 business days, though if we have them in stock, they will be sent As soon as possible!