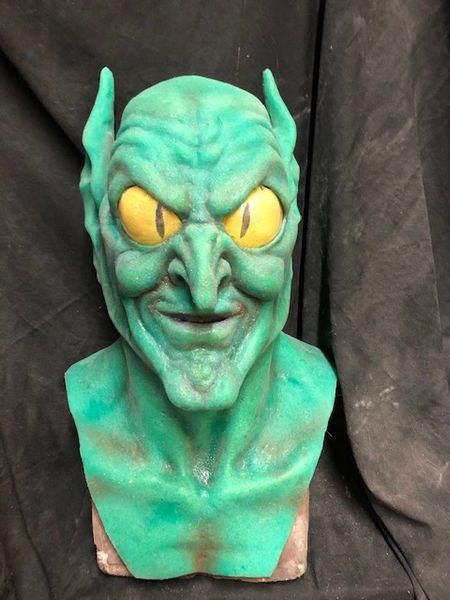 Green Goblin
Hoverboard and exploding pumpkins not included

Mask is made to order and will take 20-30 business days to get into the mail. Then we will ship priority shipping to you.

This is a silicone mask sculpted and painted by artist Jeremy Oneail. 
Like all Oneail FX masks, this one is reinforced by Power Mesh ripstop material at all of the facial openings to really give your mask great durability!
The mask comes bald but hair can be added.
You get 2 eye lens choices- with pupil or without. The lenses are clear acrylic with a painted mesh behind them.

Great for films, fans, cosplayers, haunted houses, halloween enthusiasts and anyone who likes to have fun. Its amazingly realistic and Once you have one, you'll wonder why you didn't get it sooner! Movement video here- https://youtube.com/shorts/xNYmpbx-Lg8


The mask is made to one size fits most. The core is 20.5" in diameter and will easily stretch to fit larger. Smaller heads can pad out the back to make it fit better. Sorry, but fit is not guaranteed.