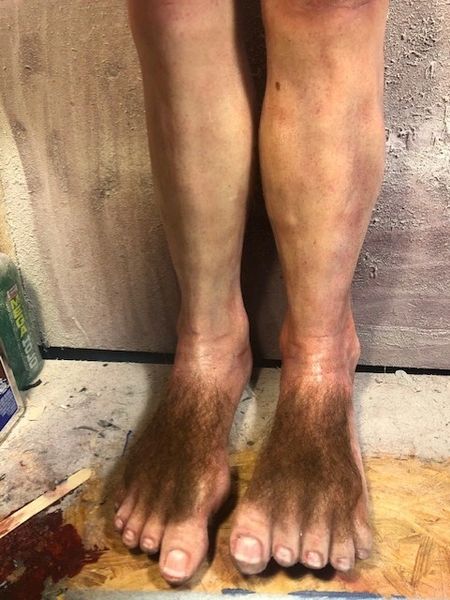 Hobbit Feet
The road goes ever on and on....
These are silicone lower legs sculpted and painted by artist Jeremy Oneail. It is made to order and will take about 10-30 business days to get into the mail. We ship USPS priority. 
Like all Oneail FX masks, these are reinforced by ripstop material around the toes and heel and the bottom of the foot to really give them great durability! 
The feet go from above the knee and all of the way down. They can fit a foot size 4 and larger. The foot in the picture is a size 11 shoe. These come as a pair and the hair is a lace backed piece and glued on. The calf areas are made out of a super stretchy but thin silicone so care must be used while putting them on and taking them off. A video of how we suggest you do that can be found here-
 You can choose a clean bottom of foot or a dirty traveler bottom of foot. 
Great for fan films, cosplay, LARPS and anyone who likes to have fun. Its amazingly realistic and Once you have one, you'll wonder why you didn't get a pair sooner!
These are made to one size fits most. They will easily stretch to fit larger. Smaller feet can pad them out to make it fit better. Sorry, but fit is not guaranteed. 
Please remember that each item is a work of art and no two are exactly the same. Please also remember that each pair is made to order and it takes us 10-30 business days for us to make it and get it into the mail. We will supply you with a tracking number when we have shipped it.