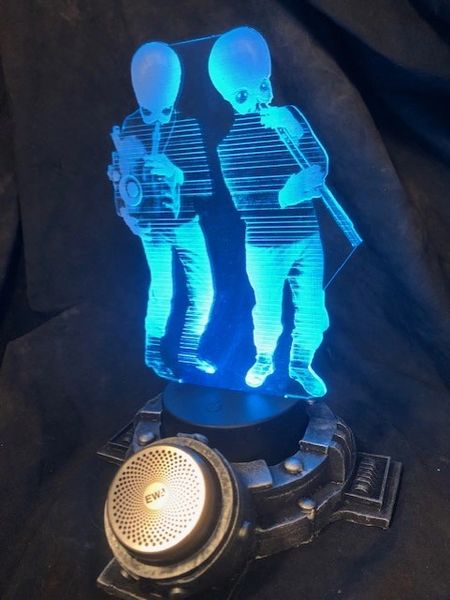 Holo Projector
Groove to the latest galactic tunes with this "holoprojector"!
Note!- NOT a real holoprojector!
For the base price you get just the resin base.
The resin base is about 8" long and almost 3" tall. It is hand painted to look like weathered metal.
You can choose to add a "hologram" from Hyperspace Props. The image is etched into clear acrylic and the base is a strong led light that you can control with the included remote control. You can use the remote to change which color you would like. It runs off of 3 AA batteries or the included cable. When you get it, the protective paper will still be on the image and will have to be removed with the plastic scraper included.
Currently you can choose between a twi'lek dancer or a bith band. Just let us know in your order notes, which one you would like!
You can also add a bluetooth speaker so you can boogie out to the Model Nodes! Charging chord included.
While we try to keep these in stock, it may take 2-3 weeks to produce. As always we will ship asap.