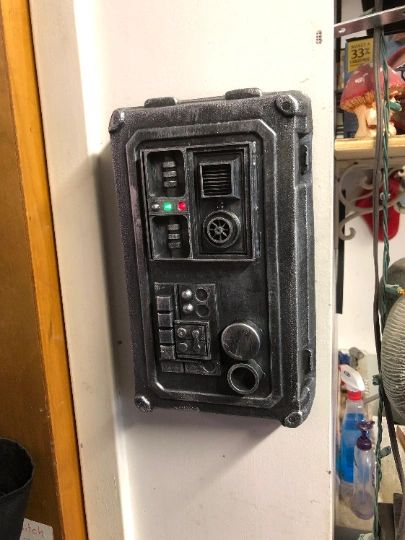 Lighted Control Panel
Make your home cantina a bit more cantiney!
Nothing is more star wars than an obtrusive control panel with lights, hanging seemingly randomly on a wall.
Now you can have one too! This 12"x6" control panel is lightweight because it's resin cast and hard foam backed. There are battery powered 2 led lights (color may vary from pictured) that shine through and you can turn them on and off with a small switch on the front.  The batteries are easily replaced if needed. The panel is weathered by hand to make it appear in universe and so coloring may vary slightly from what's shown. A small wire hanger on the back makes it easy to hang with a simple thumbtack. 
Each panel is hand painted so there may be color variation than what is shown
While we try to have these in stock, often they will have to be made to order so please be patient.