M1-N1 round counting remote droid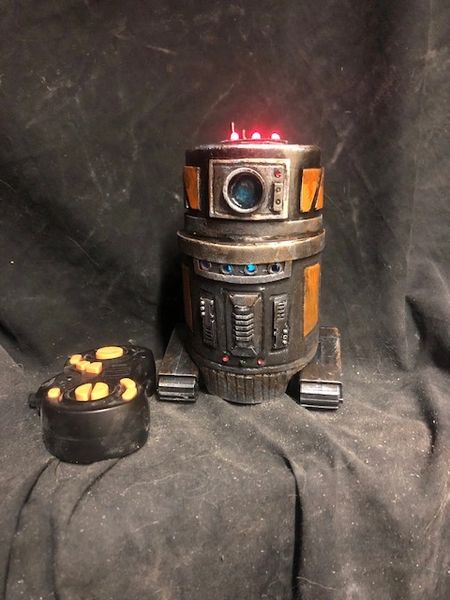 M1-N1 round counting remote droid
7 inches of adorable droidness! - https://youtube.com/shorts/TLt9hfEqEQY

M1-N1 is here to help you keep track of your sabacc rounds and is small enough to fit on your game table. He's remote controlled with automated lights and sounds. You can also choose to have 3 switches on his back to turn on the 3 red lights on the top of his head to help keep track of your rounds while playing sabacc.
M1-N1 is also ready to duke it out in the Outer Rim Droid Combat League!
Watch a clip here-https://youtu.be/LPWRxRQ1NeY
Learn More here- https://youtu.be/cXhjT15J6jA
And follow the ORDL here- Outer Rim Droid Combat League | Facebook

The included remote will make it go forward and back, left and right and it also has a dance mode. The droid uses 5 AA batteries (3 for droid, 2 for remote) and 6 CR2025 coin batteries for the red led's.
You have your choice of colors for the body, the head and the embellishments. email us to what colors you would like. They are all possible.
Choose your level of assembly!
Completed and painted droid- batteries included
Assembled but unpainted- no batteries included
kit- completely unassembled, finished or painted. No batteries included.