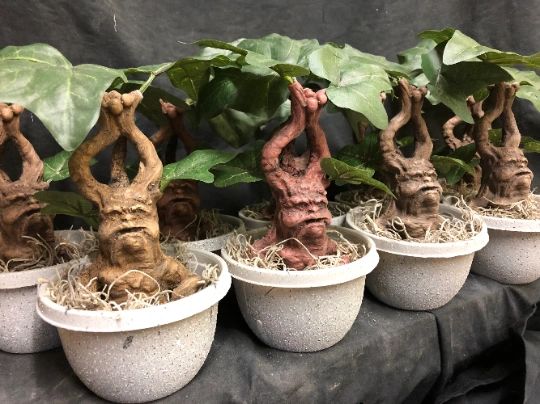 Mandrake
**No, these are not real plants. They are resin and fake leaves. Any talk as if they are real, is to just further enhance the immersion they bring into a fictional Wizard based world**
Freshly planted and recently sprouted, these mandrake "rootlings" are excited to ship to your garden. At 8" tall, they are just right- even for the urban wizard's garden! Dont worry, its young enough that the scream should cause no permanent damage. 

-Now some comments have been made on the scream these mandrakes make. The Witches and Wizards at New England School of Witchcraft and Wizarding have labored diligently to ensure that the scream of the mandrake is at a specific pitch and volume as to not cause any ill effects to those making our mandrakes scream. While it may not sound exactly like other mandrakes- it is an unmistakable mandrake scream and we feel confident and safe selling this to any of the magical community no matter how well versed in Herbology they may be.

You have many options to choose from-

No sound- these mandrakes make no sound and come in a grey plastic pot
Add Sound - these mandrakes make sound when you push down on their head and they come in a grey plastic pot.
Deluxe- These mandrake make sound when you push down on their heads and come with a clean terra cotta pot
Ultimate- These mandrakes make a sound when you push down on them and come in a weathered terra cotta pot with a resin "Mandrake" plaque attached to the side
All of them come nestled in a bed of spanish moss.
Color of the rootling and pot may vary. Leaves may vary in shape and design depending on availability.

Leaves are synthetic, mandrake is resin, 

pot is plastic for the basic version. Terra Cotta for Deluxe and Ultimate options. 
Again these are statues, they are not real plants.
We try to keep these in stock but they are not always available for immediate delivery as we may be in the process of making more. Please be patient and we will fill your order just as quickly as we can!