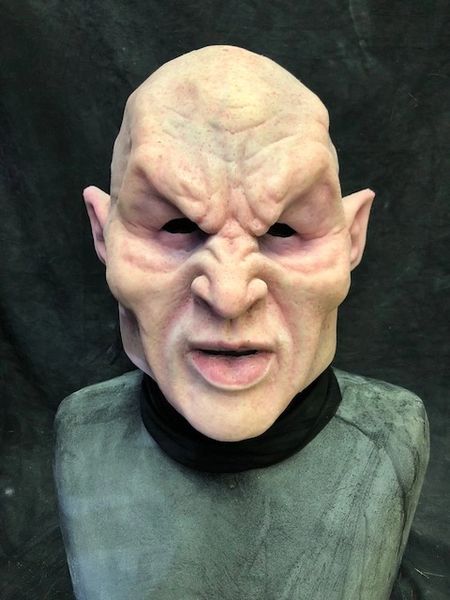 Vamp - Face Mask
Stalking the night, he needs to feed on blood!
This is a silicone face mask sculpted and painted by artist Jeremy Oneail. It is made to order and will take about 10-20 business days to get into the mail. We ship USPS priority. 
Vamp is part of our new line of Face Masks. That means the face is covered by a super detailed silicone mask that can move with you but the rest of the mask is a super comfortable lycra hood. This makes the mask super light and comfortable to wear. You dont have to worry about heat retention with these! Its also very easy to adjust the fit with our velcro fit strap. It holds the jaw snug against your face and really enhances the movement. Its really the best of all worlds! Like all Oneail FX masks, this one is reinforced by Power Mesh ripstop material at all of the facial openings to really give your mask great durability! 

The mask comes bald. A wig can be purchased and glued onto the mask if you wish and you have the option to keep the hood or just use the wig and the strap to hold it on. Contact us to see what wigs are available!
Great for fan films, cosplay, charity events, pranks, haunted houses, improve comedy groups and anyone who likes to have fun. Its amazingly realistic and Once you have one, you'll wonder why you didn't get it sooner! You can see the mask being worn in this video - https://youtu.be/dXF7p_DXBwU

The mask is made to one size fits most. It can fit upto a 25" head and you can stitch it more closed to fit a smaller head.
Please remember that each mask is a work of art and no two are exactly the same. Please also remember that each mask is made to order and it takes us 10-20 business days for us to make it and get it into the mail. During our busy season, August - Dec, your mask may take it maximum time or even later to get to you. We will supply you with a tracking number when we have shipped it.