"Spell Caster" Wand- Dragon Magic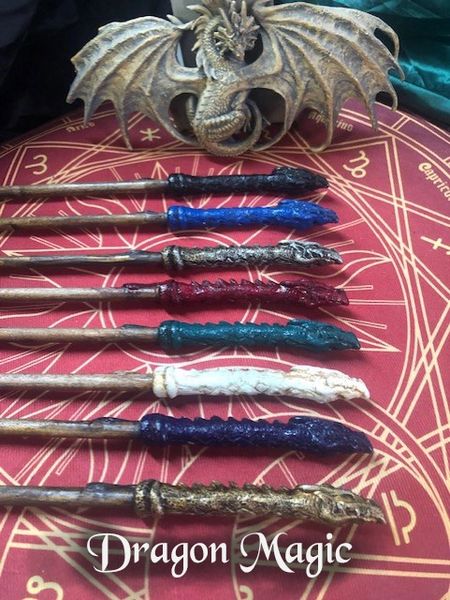 "Spell Caster" Wand- Dragon Magic
Crafted by the full moon and imbued with primordial powers, our "Spell Caster" wands are ready to deal out arcane spells at your bidding!
Older than time itself, these wands were crafted by the most ancient and powerful dragons, imbued with their hearts fire!

Watch how the wands are used here- https://youtu.be/con9LNWMiQM

Each wand is hand made in New Hampshire USA. The hardwood dowel is embedded into the resin body of the wand and then each wand is hand painted and finished! All of these wands are about 15" long and come in your choice of color! Black, blue, silver, red, green, white, purple, gold. Each style may vary in price depending on how much time our artists need to spend painting it!! Premium paint is our most complex and cost most. Mage level has wonderful artistic embellishments and is middle cost. Novice level is great shading and highlighting and least expensive. All Dragon Magic Wands are Novice level paint

Each wand comes with one random "Spell Caster Spell"! You can get upto 3 random spells!

Purchase more Spells here- "Spell Caster" Spells | Oneail FX Studios
Check out our other great designs- Celestial, Elemental and Necromancer!